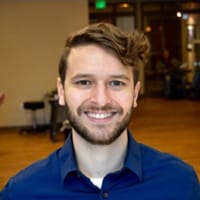 Eric Steyaert
Exercise Physiologist - Lincoln
Education:
Bachelors of Science in Health & Exercise Science
Colorado State University
Bachelors of Science in Biomedical Sciences
Colorado State University
Professional Development:
Corrective Exercise Specialist (NASM)
Certified Personal Trainer (ACSM)
Professional Interests:
Eric is interested in corrective exercise, biomechanics, myofascial release techniques, PNF stretching, myofascial inhibitory techniques, and musculoskeletal recovery techniques. Eric is very interested in all-around fitness and health, especially the nutrition, muscular strength/flexibility, cardiovascular capacity, sleep therapy, and cognitive flexibility/function. He enjoys training geriatrics in functional corrective exercise and stretches during his time in the clinic.
Personal Interests:
Eric enjoys coaching soccer for a youth team as well as keeping himself busy with his own personal health goals. He hopes to become a Physical Therapist within the next 5-8 years to add to his education and continue to help people grow, feel better and enjoy their favorite activities as much as they can without pain.