Dr. Kelly Thornton, PT, DPT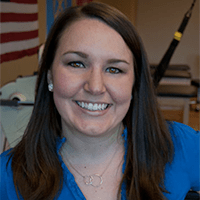 Dr. Kelly Thornton, PT, DPT
Clinical Director - Lincoln
Education:
Doctor of Physical Therapy
University of Colorado Anschutz Medical Campus, 2010
Bachelors of Arts in Biological Sciences
University of Denver, 2006
Continuing Education:
The Movement System: How and Why, 2015
Therapeutic Taping: The Breakthrough for Dealing with Musculoskeletal Conditions, 2013
Therapeutic Ambulatory Orthotic System (TAOS), 2012
The Female Endurance Athlete, 2011
Professional Interests:
Kelly has experience working with athletes of all levels, including high school, collegiate, and professional. In addition to her interest in orthopedic injuries and post-surgical rehabilitation, Kelly enjoys working part-time in the home-health pediatric setting. Kelly provides high quality care by integrating manual therapy techniques, patient education, and patient specific exercises prescription in order to help patients maximize their potential.
Personal Interests:
In her free time, Kelly enjoys hanging out with friends and family, working out, playing golf, and cheering for the St. Louis Blues.