Dr. Rachel McFarland, PT, DPT, ATC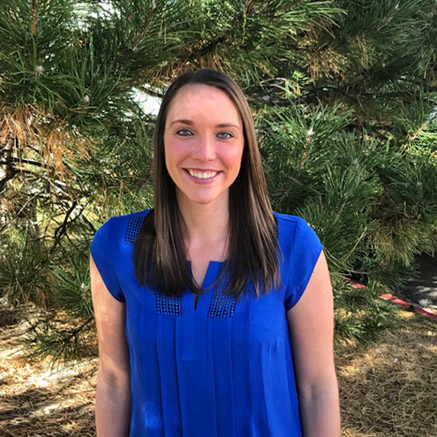 Dr. Rachel McFarland, PT, DPT, ATC
Doctor of Physical Therapy - Parker
Education:
Doctor of Physical Therapy
Regis University, Denver CO
Masters of Science in Sports Management and Administration
Eastern Illinois University, Charleston IL
Bachelors of Science in Athletic Training
Eastern Illinois University, Charleston IL
Professional Memberships/Certifications:
Certified Athletic Trainer (ATC)
American Physical Therapy Association (APTA)
Section: Sports Physical Therapy
Colorado Physical Therapy Association (CPTA)
National Athletic Training Association (NATA)
Colorado Athletic Training Association (CATA)
Basic Life Support Certification (American Red Heart Association)
Sound Assisted Soft Tissue Mobilization (SASTM)
Continuing Education:
Graston Technique: Sound Assisted Soft Tissue Mobilization (SASTM)
APTA Combined Sections Meeting (CSM):
Management of Upper Extremity Injuries in the Female Athlete
Osteoarthritis of the Knee for the Aging Athlete
ACL Injury Prevention in Females
Early Sport Specialization in the Young Athlete: Risks, Benefits, and Evidence-Based Care
E1: Lower Extremity Evaluation and Manipulation
Working towards Manual Therapy and Sports Therapy Certification (MTC and STC)
Professional Interest:
Rachel specializes in both Orthopedic and Sports Medicine with her background as a Certified Athletic Trainer. She has professional experience working with high school athletes, Division I collegiate level athletes, and weekend warriors for injury prevention and safe return to sport. Rachel also has interests in post-surgical rehabilitation and chronic pain. Her treatment approaches consist of current evidence-based practice utilizing Manual Therapy and Therapeutic Exercise techniques in order to achieve the best patient outcomes and to get her patients back to what they love to do. She has a passion for life-long learning and continues to seek new opportunities for professional growth. Rachel is currently working toward her Women's Health Certification, Manual Therapy Certification, and Sports Therapy Certification. In the near future, she is interested in becoming a certified clinical instructor, so she can inspire and support physical therapy students, as well as becoming certified in functional dry needling.
Personal Interests:
Rachel loves spending time with her family and friends in the great outdoors of Colorado. She enjoys skiing, camping, and hiking with her husband, Mitch and Yorkie, Tank. She also enjoys traveling, working out, playing basketball, reading, cooking, and oil painting in her spare time.