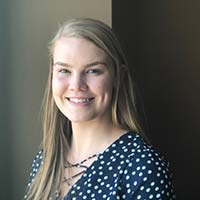 Shelby Paige, EP
Exercise Physiologist – Lincoln
Education:
Bachelors of Science in Kinesiology
Stephen F Austin State University
Professional Development:
Certified Clinical Exercise Physiologist (ACSM)
Professional Interests:
Shelby enjoys working with and making a difference in the higher risk patient population. She came from the Cardiac Rehab setting so adding the orthopedic side to her experience will overall make her a better Exercise Physiologist.
Personal Interests:
Shelby moved to CO to enjoy a more active environment including snowboarding, hiking, and camping. She loves collecting and appreciating classic/oldies music on vinyl. Among her favorites are The Beatles, Led Zeppelin, and Bing Crosby.